The Hottest Hangout Spots in Jakarta
Hey JKTGOers!
Do you have FOMO? We do.
What do you mean you don't know what FOMO means?? It's the Fear-Of-Missing-Out.
Our lovely city of Jakarta is growing at a ridiculously fast pace. From traffic jams to malls, everything is getting bigger and bigger and bigger! Here are some of the best and newest hangout spots in Jakarta. Go tell all your friends (;
Simetri Coffee Jakarta is a coffeehouse so new it's not even open yet (it opens on the 15th of Jan). But we just know it's going to be a hit with you Jakartans. Simetri Coffee Jakarta is one of the best cafes in Jakarta, and one of the best brewers and roasters, too.
We covered their pre-opening in a blog post not too long ago.
When: Mon – Sun ; 8:00 – 19:00
Where: Jl. Puri Indah Blok A13 No. 15,
Kemang Abdi 7, West Jakarta
Caffeine Dispensary Jakarta
For those of you in North Jakarta, The Caffeine Dispensary Jakarta is the hangout spot for you. Originally from Singapore, they've recently branched out into Indonesia and is just one of the great coffee houses popping up around town. They host regular cupping sessions for the general public once a month so be sure to sign up for those you Coffee N00bs!
We'll be doing a review of this soon, so stay tuned!
When: Tue – Sun ; 11:00 – 21:00
Where: Jl. Kelapa Kopyor Raya Blok O1,
Kelapa Gading, North Jakarta
You may have read our previous review of Caribou Coffee Jakarta and we stand by what we said. Even though it's barely two months old, Caribou Coffee Jakarta is packed to the brim with eager coffee enthusiasts. With great coffees, affordable healthy meals, and a cosy interior that begs you to stay just a little bit longer, you'll see why it's a battlefield in there.
When: Mon – Sun ; 6:30 – 23:00
Where: Jl. Senopati No. 52, South Jakarta
Lewis & Carroll Tea Jakarta is a teahouse in South Jakarta well known for their original tea blends, made using only the best ingredients. Unwind at this cozy but quirky tea house reminiscent of Lewis Carroll's characters themselves. Lewis & Carroll Tea Jakarta is set in a two-story building. It's second level houses the Yoga Dham Jakarta studio.
When: Mon – Sun ; 8:00 – 22:00
Where: Jl. Bumi No. 4,
Kebayoran Baru, South Jakarta
RUCI's Joint Jakarta is a fresh new collaborative cross-brand social space in Senopati, South Jakarta. They combine the best of up-and-coming food brands and showcase them in an easily accessible manner. RUCI's Joint Jakarta often hosts workshops, live acoustic jam sessions, collaborates with local artists for exhibitions and encourages co-working.
We recently went over to review the space. Check it out!
When: Sun – Thu ; 10:00 – 22:00
Fri – Sat ; 10:00 – 00:00am
Where: Jl. Suryo No. 49,
Kebayoran Baru, South Jakarta
Papajo Eatery Jakarta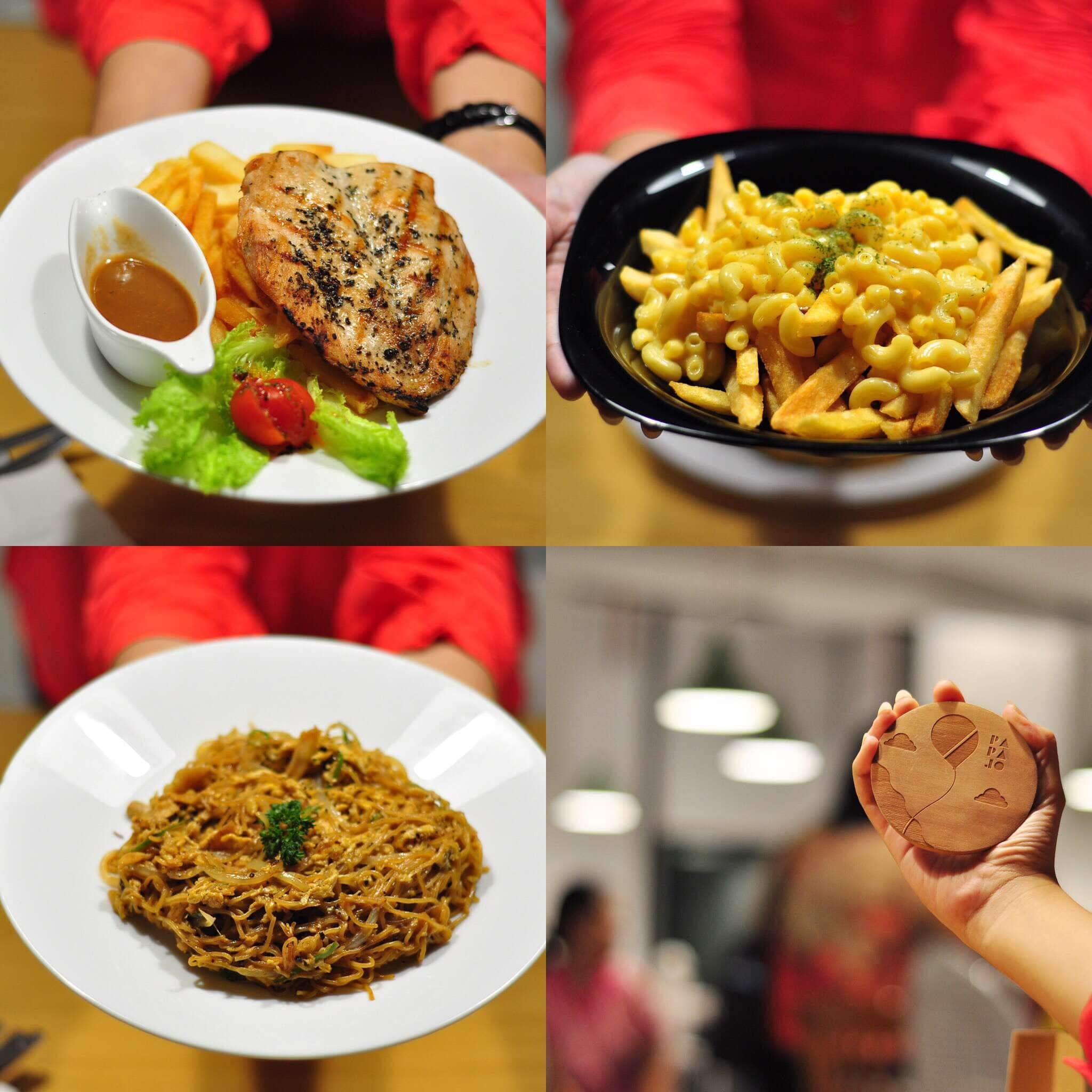 Papajo Eatery Jakarta has been booming all over Instagram lately and that's no surprise given its charming interior and great lighting. If you haven't hear the name from your friends yet, we're telling you here. It's in the Puri Indah, West Jakarta area, close to many other great eateries on this list. Their food is no joke either with plenty of first hand accounts recounting just how awesome it is.
When: Mon – Sun ; 10:00 – 22.00
Where: Lippo Mall Puri @ St. Moritz, Lantai Ground,
Jl. Puri Indah Boulevard Blok U No. 1,
Puri Indah, West Jakarta
Warunk Upnormal
Warunk Upnormal Tangerang is another one of those Instagram hotspots that just keeps on growing. This Tangerang branch is their twelfth (they started in Bandung). They sell good Indonesian "fast comfort food". Indomie, roti bakar, fresh milk and coffee. Check them out if you're curious. It's a great spot to hangout with friends.
When : Mon – Sun ; 09:00 – 00:00
Where : Ruko 7CS No 22-23,
Gading Serpong, Tangerang